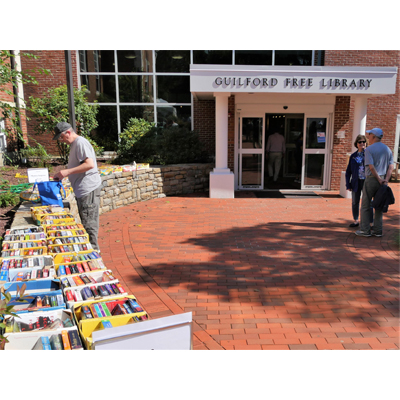 Friday, September 22 from 9am to 6pm
Saturday, September 23 from 9am to 5pm *Bake Sale
Sunday, September 24 from 11am to 3pm *1/2 Price Day
Once again, the eagerly awaited Friends' Fall Sale will offer a superb selection of gently used books, paper ephemera and media.
Sale tables are organized by topic and regularly restocked with top quality books.
Fiction ranges from classics to best sellers.
Non-fiction includes books on history, art, nature, sports, religion, cooking, health, wellness and so much more.
Among the vintage items are paper ephemera as well as books.
For children, there are picture, chapter and board books as well as classics; teens can choose from young adult books, graphic novels and Manga.
Also on offer are CDs, DVDs, and vinyl.
Saturday and Sunday will feature live entertainment in the library courtyard. And don't forget to bring your own bag to carry home your purchases!
The Fall Book and Bake Sale is a major fundraiser for the Friends of the Library. All proceeds are used to support the Library.
To buy books; sponsor programs for children, teens, and adults; purchase equipment, software, and hardware; provide museum passes and a Library of Things for loan; and underwrite staff development.
The Library is located at 67 Park Street across from the Guilford Green. For more information, contact the Library at 203-453-8282 or www.guilfordfreelibrary.org