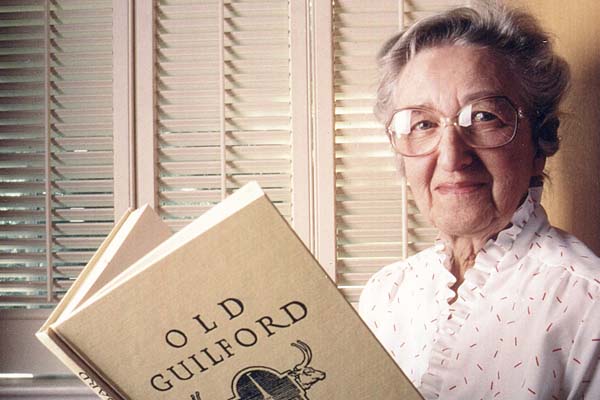 Edith B. Nettleton in the original library, now known as the Edith B. Nettleton Historical Room
Edith Nettleton, born July 22, 1908, was Guilford's first town librarian. She began working in December of 1933, overseeing the move from the library building on Whitfield Street (now demolished) to the newly constructed Georgian building at 67 Park Street. When the new building opened in January 1934, and for several years after that, Edith was the only employee.
For the next 44 years, Edith expanded library services to complement the town's growing population and carried books to schools and homebound patrons; produced programs for adults and story hours for children; and explored an integrated, multi-town system. After the 1977 expansion was completed, Edith retired in 1978 for a few months but returned as a volunteer to help establish the Historical Room. The Connecticut Library Association awarded its "Excellence in Public Library Service Award" to the Historical Room in 2002.
The room was renamed the "Edith B. Nettleton Historical Room" in 2003 during a town-wide celebration to mark Edith's then 70 years of service, and the town's affection and esteem for her. Edith continued her work in the Historical Room right up to her death in January, 2014. She embraced change and loved how easily and quickly technology allowed the scanning and emailing of photographs or articles from microfilm, how detailed Google maps were, right at her fingertips. Her last project was the creation of the digital archive of historical photographs.
Edith's foresight in preserving the souvenirs of daily life, ferreting out bits and pieces of valuable history, was matched by her dedication to interpreting the wealth of materials so that they document the founding and growth of the town, its family genealogies, and its house histories. Who but Edith would have known to create a subject entry for "Houses, moved?" And her penciled corrections strewn over documents stored in the vertical files attest to her glee in uncovering yet another connection, or a new fact. She was always on the lookout.
Edith used the gift of her intelligence with grace, generosity and humility. The library she created, and the wealth of the Edith B. Nettleton Historical Room continue as a hub of community learning, and as a fitting tribute to Edith.