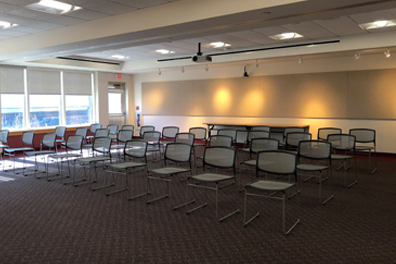 The Meeting Room is not available to use for commercial or marketing purposes. If you are looking for a room for quiet study or small-group meetings, please reserve a study room.
To reserve the Meeting Room for larger groups, please stop by the reference desk or call us at 203-453-8282, or submit the request form and we will contact you.
Meeting Room policies
All meetings must conclude by 8:00 pm and building vacated by 8:15 pm (Monday-Thursday) unless otherwise specified.
No fee or admission may be charged to attendees of any meeting.
All meetings must be open to the general public.
Staff may access meeting rooms at any time if necessary.
All groups are responsible for general clean-up.
Wall attachments and decorations are not permitted.
Groups wishing to use Library Audio/Visual equipment must schedule a training with a library staff person prior to the date of their meeting.
If you are using your own technology it is strongly suggested you meet with a library staff person prior to your event to ensure compatibility with our meeting room.
Meeting Room Request Form
Meeting Room Reservations are not complete until Library staff contacts you and explicitly confirms your reservation.