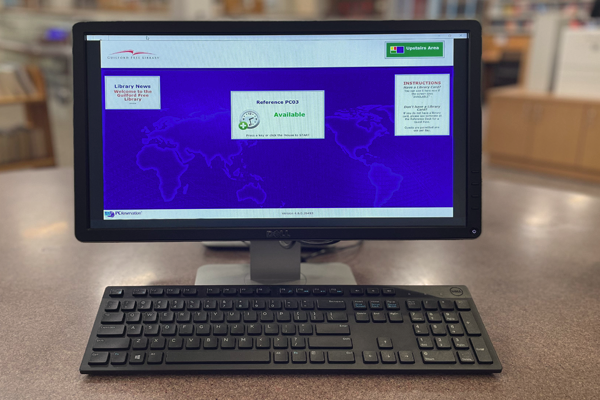 The majority of our public computers run the Windows 10 operating system. All computers have Microsoft Office 2016, including Word, Excel, PowerPoint, Access, and Publisher. The computers also offer shortcuts to the databases available to our patrons, including Consumer Reports, Ancestry, Data Axle's Reference Solutions, Pronunciator, Value Line and Job Now.
Privacy
Public computers sessions are administered by software designed to protect patron privacy. Once logged in, patrons have two-hour sessions on any terminal. If you need additional time, please ask at the reference desk and we will extend the session, provided that no one else is waiting for a computer. Once a session ends, the hard drive is completely wiped and reset.
Saving your work
We have no way to recover work that was saved onto the drive of a public computer after a session ends. We encourage all patrons to bring USB drives (thumb drives) and to regularly save work there, or to work on documents in the cloud, via services such as Google Docs and Sheets.
Public computer guidelines
Please be mindful of others working in the public computer area. Wear headphones and limit volume so that sound is not audible to others.
Please try not to make or receive cell phone calls in the computer area. Very brief, quiet conversations (2 minutes or less) will be tolerated, after which we will ask you to continue your call in an area where it is permitted.
Please do not eat or drink at the public computers.
Do not attempt to download and/or install software programs on library computers.
If there is a problem with the computer, please notify staff.
If you leave your computer during a session, please lock it with a PIN.